We know that the purchase of our book, REBORN THROUGH FIRE will make a positive impact on your life. This inspiring story is one you will want to share and will make an unforgettable gift for friends and loved ones. You may want to get one for yourself and one for someone you know; they will thank you for the gift of HOPE.
The proceeds from the book, as well as much appreciated monetary contributions, will go a long way toward helping to cover our expenses so we can finish our "Documentary movie" we have started, cost of printing and distribution of the book and begin to rebuild whatever path lays ahead for us. I have also decided to donate a percentage of the proceeds to Children's Burn Foundation. Price of the book is $19.98 US.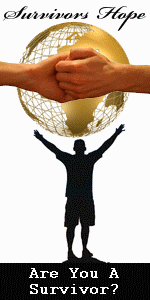 Tony's Book & CD

New!
Scroll down for more information on my new motivational CD WALKING THE PROSPEROUS PATH



There are recurring themes in this remarkable man's life: faith and miracles. Destined to teeter on the brink of death not once but repeatedly, Tony Yarijanian seizes life with a tenacity we can only marvel at and be inspired by. His wife's and children's strength and courage are a testament to the human spirit.

This is one of the most inspiring books about miracles, faith and human will to fight and never to give up. This book is for everyday people. It isn't flashy or complicated. Real situations and real people's life and documented miracles are what makes this book unique and a must read novel for every one.

From the man who saw angels on the streets of Glendale and told them, "I'm not ready to go", comes this book, Reborn Through Fire. It is the true account of a man burned over ninety percent of his body who comes out on the other side of his horrific accident remarkably intact. May The Yarijanian family 'never give up' attitude be a catalyst for your own faith.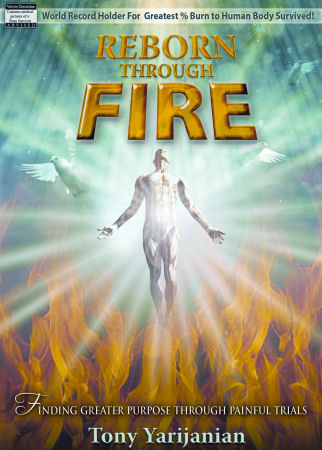 "I never considered myself a burn victim, but a burn survivor."

Click here to read reviews from people who have read Tony's book.

REBORN THROUGH FIRE
Paperback (soft cover), for $19.98 US:



REBORN THROUGH FIRE
E-Book, for $15 US:
Shopping Cart by E-junkie

REBORN THROUGH FIRE
Autographed and personalized by Tony for $29.99 US.

LIMITED TIME OFFER - FREE SHIPPING IN THE USA



CONTRIBUTIONS
We need your help to continue to help servivors. Any size of a contribution is appreciated. Contributions can be made by check, or credit card through Pay Pal. Click the donate button for more details.




Just to say, Thank you.
Purchase the special autographed and personalized version of my book "Reborn Through Fire" and add a monetary contribution that will cover some of our costs for completing and publishing of the book and finishing the documentary film that we started. In return, we will send you the book, signed and personalized by Tony Yarijanian.
Tony and Ani will donate a percentage of all the book sales to The Children's Burn Foundation to be used to provide treatment to children who have suffered catastrophic burn injuries that do not have the funds for surgeries and treatments

---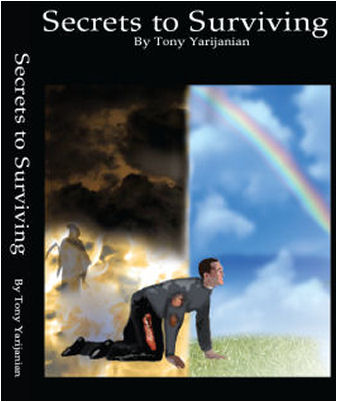 New! - WALKING THE PROSPEROUS PATH

I am spending my days spreading the message of hope through public speaking events, my mission Survivor's Hope, and through my book, "Reborn Through Fire" and my new motivational CD called Walking The Prosperous Path. Whether you are struggling with life stressors like obesity, time management, depression, illness, a sedentary lifestyle, lack of confidence, apathy, a traumatic event or "just" stress, (who isn't? J ), I believe that my motivational CD can change your life.

Many times in my life I thought, "This is the day I will die," but again and again I was spared. I KNOW it is for a reason. What do I "get in return?" Well, whether you order one CD, or even if you choose to mass order my motivational CD's to offer to a parish, youth group, club, or give as gifts, then MY REWARD is knowing that I am saving someone from giving in to feelings of powerlessness, and motivating them to make positive changes. Proceeds go to support and cover the costs for maintaining the website, traveling ,lodging, food and expenses for visiting hospitals, patients, churches, organizations and more. I am proud to say that here at Survivor's Hope, we have turned people back from suicide.

Will you give my CD (called Walking The Prosperous Path) a chance to work a miracle in your life? I know a little about miracles, in fact people have called me 'the miracle man.' At one point my eyes, ears, fingertips, hair, ears and so much more totaling close to 95% of my body was burned away and my wife was told I would not walk or see again! My fate was in the hands of skilled surgeons back then but my FAITH was a subconscious strength and a belief that I had much more to do in this life. Today I proudly WALK into rooms and give speeches. But I cannot say it all here, please give my CD a try. The trauma survivor's plight is a passion of mine; a life's mission, and income generated is all about helping them. Do not let life's potential go unmet!

WALKING THE PROSPEROUS PATH
Motivational CD, for ONLY $11.98 US (FREE Shipping!):